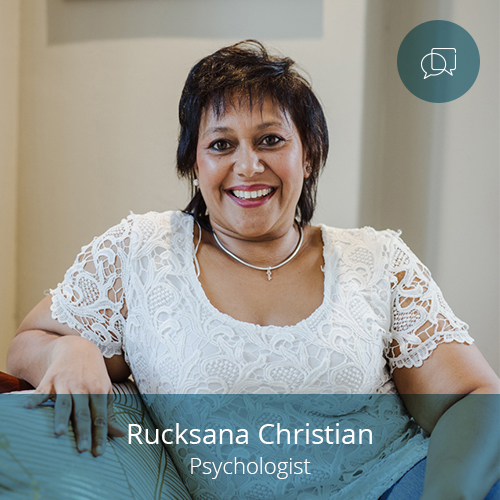 ---
"Nothing will work unless you do." - Maya Angelou
---
Introduction:
Rucksana is a versatile therapist with an integrationist approach to treatment modality. She is behaviourally orientated and is a certified EMDR practitioner, using clinical hypnosis in her treatment regime where required.
Short summary:
Rucksana Christian is a clinical psychologist holding a Master's Degree from the University of Cape Town and HPCSA registration in this category. She has been practising since 1999 and has a range of experience in adult, child and family clinical pathology. Senior roles in the corporate sector have given her experience in organisational psychology along with employee wellbeing.
Qualifications:
B.A Psychology
M.A Clin. Psychology
Ruksana Christian's areas of interest:
Adult in-patient therapy
Ruksana Christian addresses adult in-patient psychotherapy using play and directive methods. She conducts intelligence and emotional assessments in addition to counselling Stress and Change Management.

Clinical Psychology
Using a combination of science, theory, and clinical knowledge Ruksana achieves comprehension and relieves psychologically-based stress to promote subjective mental wellness and personal development. Central to its practice are psychological evaluations, clinical formulations and psychotherapy.

EMDR
Rucksana is a specialised EMDR (Eye Movement Desensitization and Reprocessing) certified practitioner utilizing clinical hypnotherapy where required for adults, children and families